The Disgusting Little Creatures Department: Stephen James Byrne, Child Killer
Killer And Victims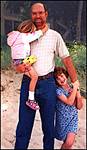 This is the absolutely horrid narrative of a man that murdered his two daughters and then killed himself. It's also about what happened in the crime's aftermath.
Stephen James Byrne was involved in a custody dispute with his ex-wife, and was far behind with his child-support payments. What this monster did in reaction was to murder his two little girls. He then shot himself.
After the crime, someone (it would be safe to assume that it was the killer's family) made an attempt at "damage control." The listing below shows how this story has been (rightfully) brought to the public's attention.
Memorial services for 11-year-old Kelsey and 9-year-old Hayley Byrne were held 2:00 PM this afternoon at Trinity Lutheran Church, Lynnwood, Washington State.
May those innocent young girls rest in peace.... And let's say a little prayer for all children.
Update: Interested-Participant has an excellent suggestion for those in the vicinity of the killer's grave. The Hyscience blog has a fascinating viewpoint based upon personal experiences from his service in the Marine Corps.