The 'Wonks Faculty Profiles: In Search Of Utopia
ISOU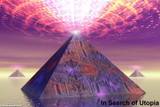 In the first installment of a series of Blog Profiles, the 'Wonks will be taking a look at each of our Faculty Members, and the unique contributions that they make to the 'Wonks continuing effort to gather the widest range of viewpoints possible.

With the apt subtitle, "Exploring The Hieroglyphics of Our Time," the Blog that is known as
In
Search Of Utopia
offers consistently well thought-out commentary on the issues of the day from a left-wing perspective. The author is
David Scott Anderson
, an entrepreneur that is living in Costa Rica.

The Wonks firmly believe that David's blog represents, "The Best Of The Left."

One of the many things that I admire about David is the fact that he is more than willing to listen to, and have dialogues with, those that hold viewpoints very different from his own. He welcomes civil discourse within his commentary threads. As you can see by his
stand of the issues
, one may think of David as an independent thinker rather than an inflexible ideologue.

An innovator, David Anderson was instrumental to the founding of "The Progressive Blog Alliance," which is a compendium of blogs representing the left. This alliance has experienced phenomenal growth since its inception late last September.

David's postings cover a wide-range of topics, including, but not limited to: politics, business, entertainment,
blogging related issues
, and "snapshots" about living in Costa Rica.

No matter what your political viewpoint, the regular reading "In Search Of Utopia" is a good investment of your reading time.