Administrative Buffoonery: Santa Claus Banned From School Dance In New Hampshire
Not PC in NH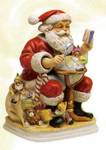 Filed from "Owls Nest" near Tamassee, South Carolina.

In

a case of political correctism run amok, a school principal ejected a 7th grade boy from a "holiday dance" at Hampton Academy Junior High School because he came
dressed as Santa Claus
. Principal Fred Muscara said that the dance was a "Holiday party, not a Christmas party." The good principal went on to say that the school must be sensitive to students that have other religious beliefs.

In a display of typical bureaucratic inconsistency, School Superintendent James Gaylord, of Hampton, gave another reason for kicking the kid out. According to Gaylord, the student was ejected because he violated the dress code. Supposedly, the dance was a "dress up" affair.

The school board has begun asking both administrators a very unsettling question. They would like to know, "Why was the young man expelled from the dance, and then sent home, alone, at night?"
This is the one that angers us here at the 'Wonks the most. If something had happened to that 7th grader....

This episode could have just as easily been placed in our Political Correctism Run Amok Files, but since it did involve a couple of school administrators....