F-16 Fighter Fires At School In New Jersey
How And Why?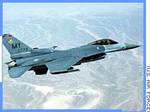 From the "

Truth Is Stranger Than Fiction Files

" comes this interesting little tale of the mysterious case of the
F-16 Fighter that fires at a middle school In New Jersey
late Wednesday night. No one was hurt in the incident.

The cover story is that the school was strafed by accident.

Here at the 'Wonks, we know that there is another, more....ah...um..

interesting

explanation. One of our Confidential Sources that works in a nearby school reported to us that the Little Egg Harbor Intermediate School had an unusually long staff meeting following dismissal Wednesday afternoon. The

last

item on the 3 hour Agenda was a lengthy discussion addressing the issue of: "Why Is Teacher Morale So Low?"

It has been revealed that one of the

teachers

happens to fly F16s at the nearby New Jersey Air National Guard Unit. It has been further indicated that this particular teacher was less than pleased when informed that the topic of how to improve low teacher morale was included in a Special Staff Meeting scheduled for Friday afternoon.
School Administrators continue to be puzzled as to why teacher morale did not improve after the last staff meeting.