Notes From The Education Underground: On-line Quizzes
What Kids Are Doing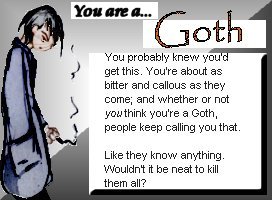 When parents are out of the room, middle and high school students all over the United States are taking on-line personality quizzes. These quizzes typically consist of a series of multiple-choice questions.
After taking the quiz, a "stereotype generator" places the participant into a "personality type," as can be seen above. One popular version of this quiz is:
Which High School Stereotype are you?
. Even though the concept could be amusing, there is nothing cute about an outcome that asks the participant, "Wouldn't it be neat to kill them all?"