Lincolnville's Guardian Angels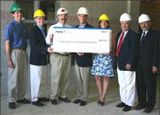 When

an elementary school in Lincolnville, Maine had to close last year, a regional headquarters for a large American bank stepped-up and
did some heavy lifting
:
David Tassoni, center, the director of MBNA's Northern Region, presented Lincolnville school and town officials with a check for $806,157.92 to help cover the cost of construction of a new school. With Tassoni are Paul Sampson, left, chairman of the Lincolnville Central School Building Committee; Jim Christie, manager of the MBNA Foundation in Maine; Lincolnville school principal Paul Russo; MaryAnn Mercier, chairwoman of the school's fundraising committee; Bob Plausse, chairman of the Lincolnville Select Board; and David Wiggins, superintendent of School Union 69.

The presentation took place on June 23 at the site of the new school, which is scheduled for completion this fall.

When the town's K-8 school was ordered shut down in April 2000 because of air quality problems, MBNA built a new school at its Point Lookout campus in Northport for temporary use by the more than 200 students who were displaced by the closing. The building was complete in time for the start of the 2000-2001 school year.

MBNA also gave the school a three-year lease, later extended to five years, with the lease payments returned to the school.

Before the old school closed, MBNA had issued a $1,000,000 challenge grant for the renovation that was planned at the time. After the school closed, MBNA redirected the grant to construction of a new school and pledged an additional $500,000 at the start of construction.
I think that it's great when a local business gets meaningfully involved in supporting public education in their community. For this outstanding act of generosity, we give the
Northern Region
of MBNA (Headquartered in Belfast, Maine) our

Red Apple Salute

.
-----------------------
View the latest edition of the Carnival Of Education (as well as entry guidelines)
right here
.
Main Page/Latest Posts